Soulcycle BMX championships round III – USWA 2019
-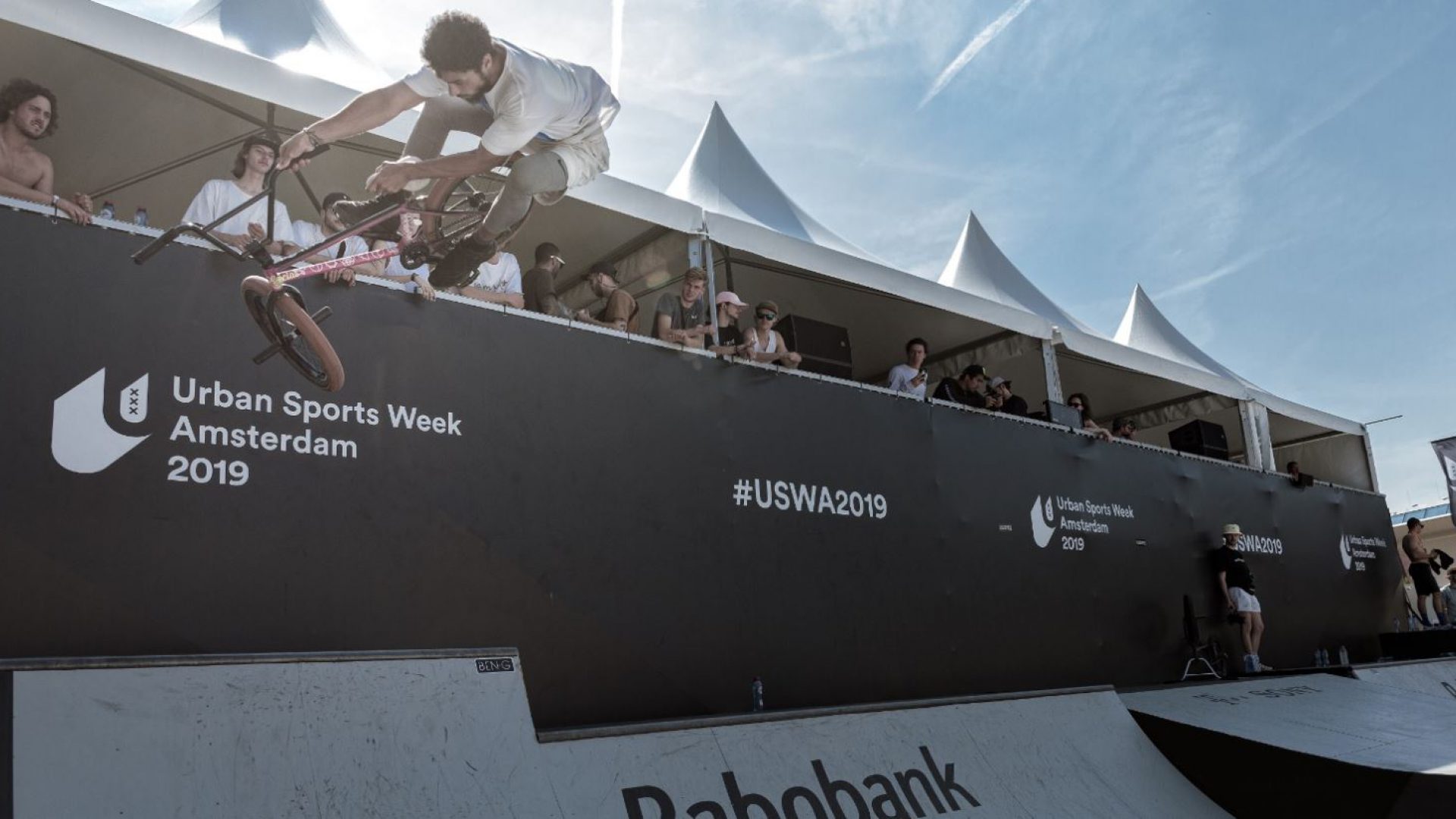 The 19th to the 23rd of June were all about the SOULCYCLE BMX CHAMPIONSHIPS ROUND III – part of the Urban Sports Week of Amsterdam at the Museumplein. Riders from several continents made their way over to sunny Amsterdam city centre to battle against each other for a total prize money of €15.000! Great vibrations were there for sure! You can find a report of all the sick stuff that happened last week below.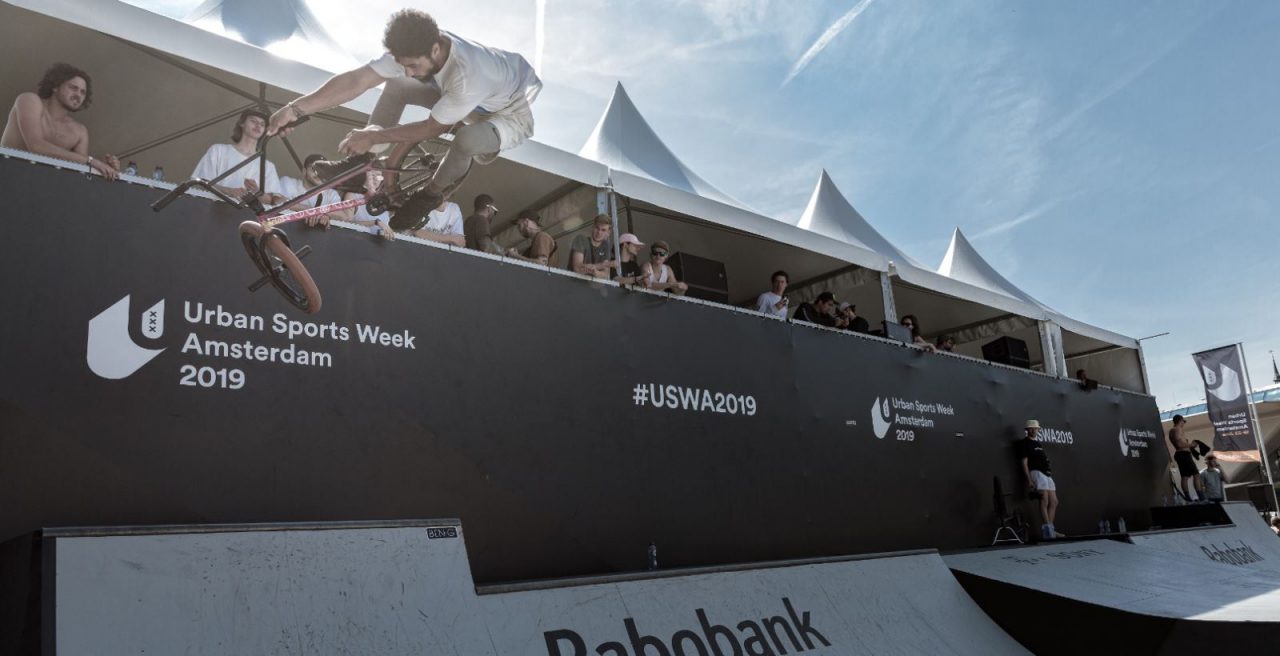 Wednesday June 19
PARK AM
We kicked off the week with a PARK AMATEUR contest. It was amazing seeing how amateurs were able to raise the bar for BMX! Tricks like a cancan tire grab (Denz), backflips, tailwhips and even flairs were thrown down. Riders ranged from all over the country, but noticeable was the group of eleven "BMX Amsterdam" locals who entered the competition. OG's like Jean de Lannoy and Arthur van Velden also made their way over, leading to an instant good vibe and high standard of riding. After a heavy battle, it was Bruno Colautti who ended up first place by showing the jury some extremely stylish riding!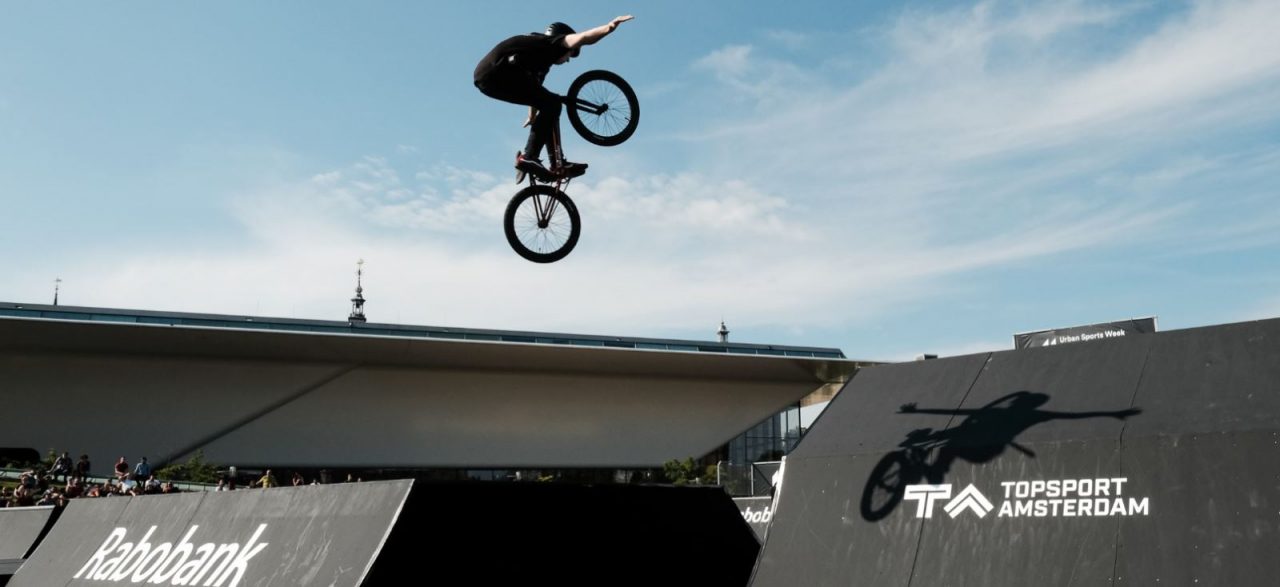 RESULTS SOULCYCLE BMX CHAMPIONSHIPS ROUND III – PARK AM
Name:                              Score:
1. Bruno Colotti                77,4
2. Albaz Alayyaf               73,6
3. Chris van Dijk               69,1
4. Orlando Amsing           67,7
5. Denz van laren             63,7
6. Arthur v/d Velde           60,7
7. Jan Schreurs                59,7
8. Daan Tang                    57,7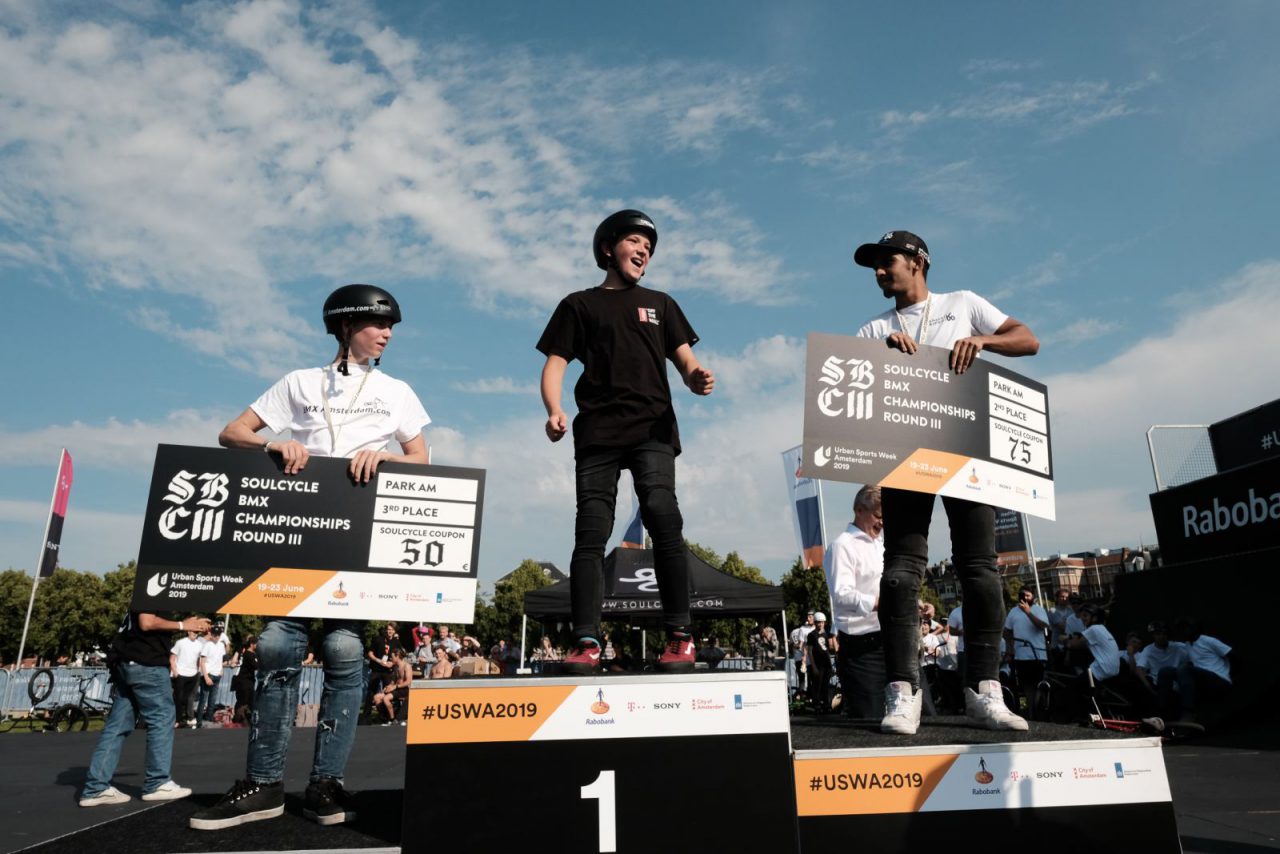 FLATLAND
The FLATLAND contest promised to be a hefty battle with 20 of the most talented riders from all over the world involved. Riders like Dez Maarssen, Sietse van Berkel and Alex Jumelin warmed up the crowd with the most complicated combo's. However, a heavy rainstorm threw a spanner in the works and led to the flatland contest being cancelled unfortunately. Let's hope the prize money of 5000 euros divided over all participants will enable them to buy a bus ticket for next years contest!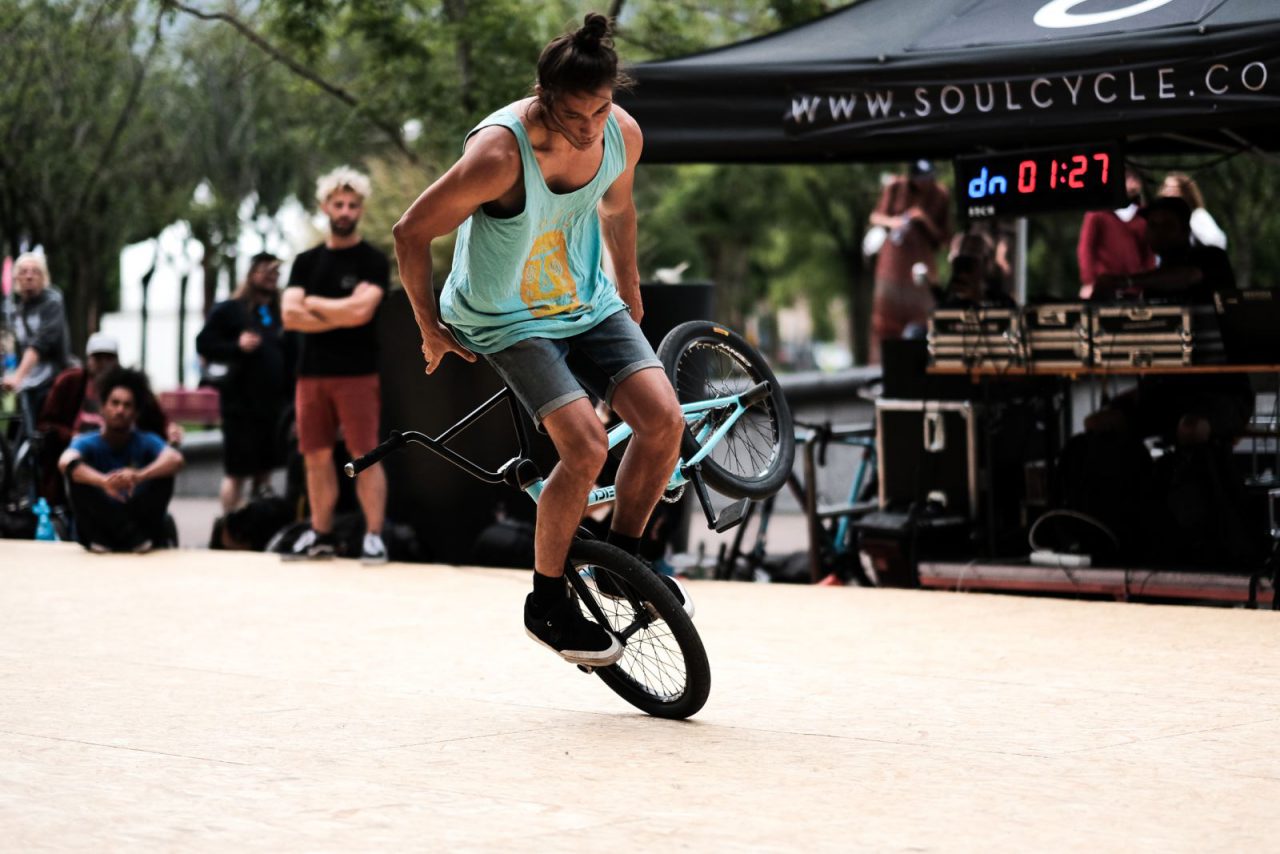 Thursday June 20
PARK & STREET PRACTISE
Thursday was a day for the riders. To get used to the park and street courses and to get some practice in, the riders got the opportunity to ride the courses for a couple of hours. Some riders already went in hard, giving us a sample of what is to come in the next few days!
Friday June 21
PARK PRO QUALIFICATIONS
The PARK PRO qualification contest was one for in the books. Incredible tricks from both Dutch and foreign riders were seen, like Jack Clark's infamous dipped 540 tables, and Niels van Maren's signature ability to eliminate any fear while maximizing the combo level. Even street rider Reed Stark competed and earned a place for the finals, showing that having a creative mindset can bring you as far as a deep bag of tricks could do.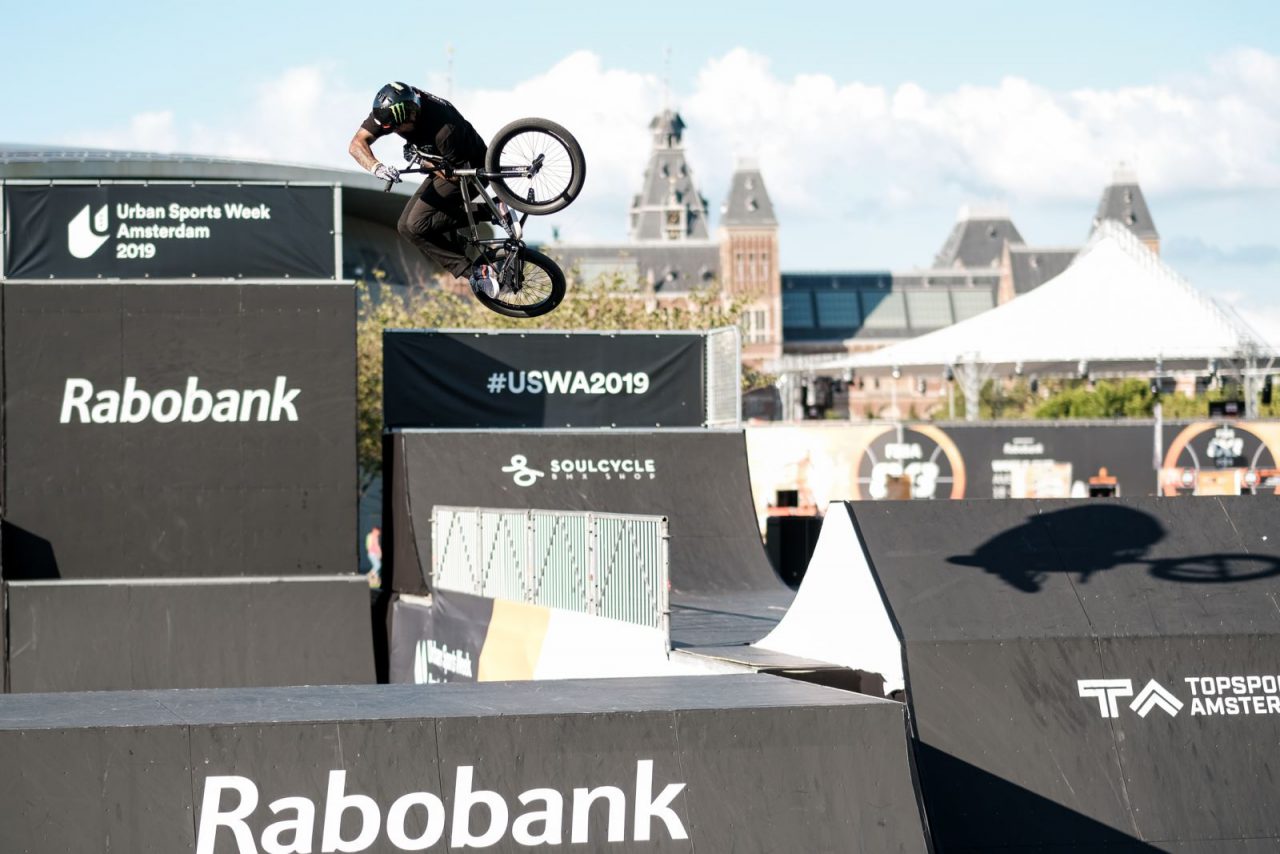 Saturday June 22
PARK PRO FINALS & PARK PRO WOMEN
Following upon the qualifications of the day before, Saturday was all about the PARK PRO finals and the Dutch Championships (both being the same contest). The Dutch Championships were open to all Dutch riders willing to show their best riding. It could even give the competitors scoring points for a higher rank in the qualifications for the Olympics in 2020. All riders showed their wide range of tricks, but there could be only two Dutch champions: Levi Weidmann for the men class and Jana Muravoda for women. In the overall park class it was Jack Clark who took home the win in the end, followed by fellow British Cam Peake and Dutchman Levi Weidmann. The high level of riding, good weather (once again) and the natural grass tribune on the Museumplein brought about a large and supporting crowd!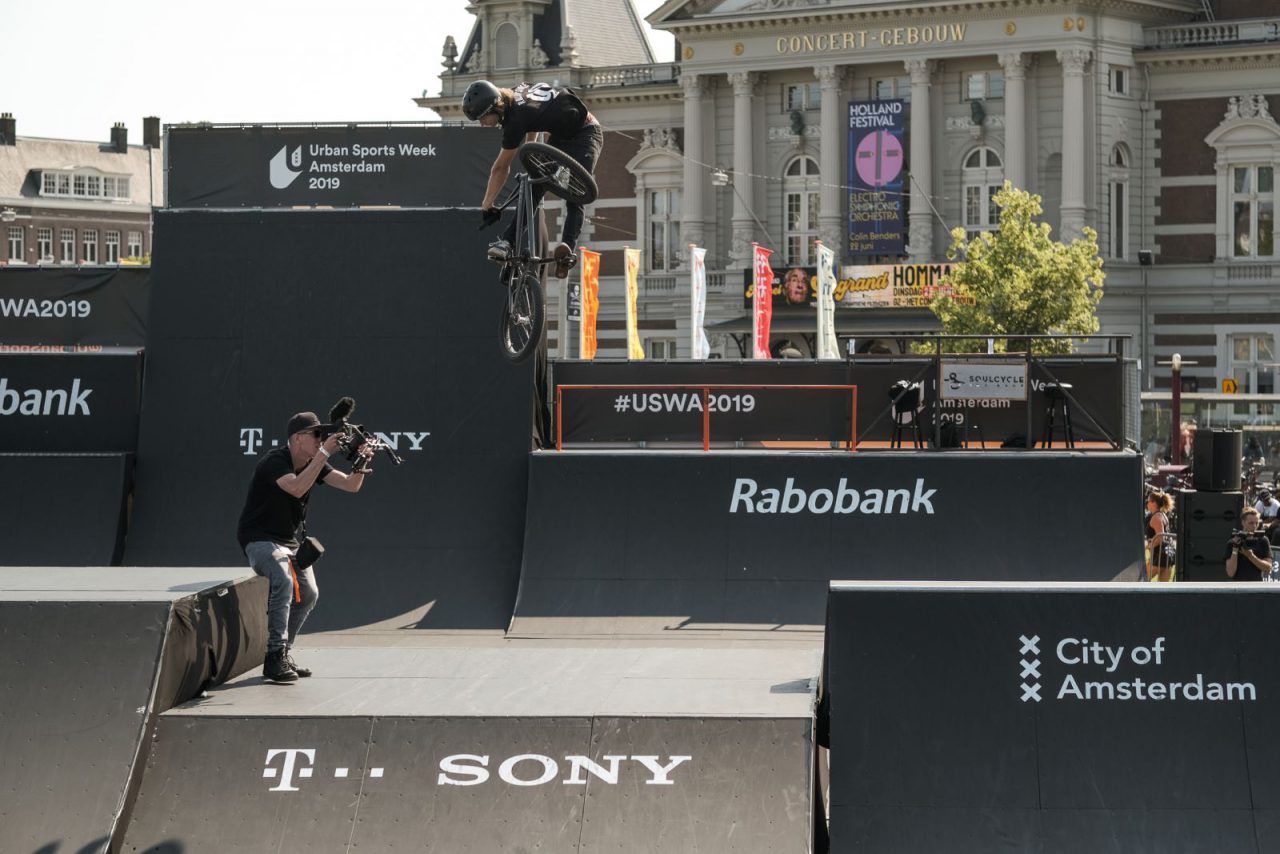 RESULTS SOULCYCLE BMX CHAMPIONSHIPS ROUND III – PARK PRO
Name:                              Score:
1. Jack Clark                    94,6
2. Cam Peake                  91,3
3. Levi Weidmann            87,6
4. Victor Munoz                86,3
5. Jari Roggeveen            85,0
6. Arjan Ellens                  82,3
7. Niels van Maren           81,6
8. Sam Jones                   78,6
9. Reed Stark                   76,6
10. Sem Kok                     73,0
11. Tom Selbeck               71,3
12. Tomas Fuentes           64,6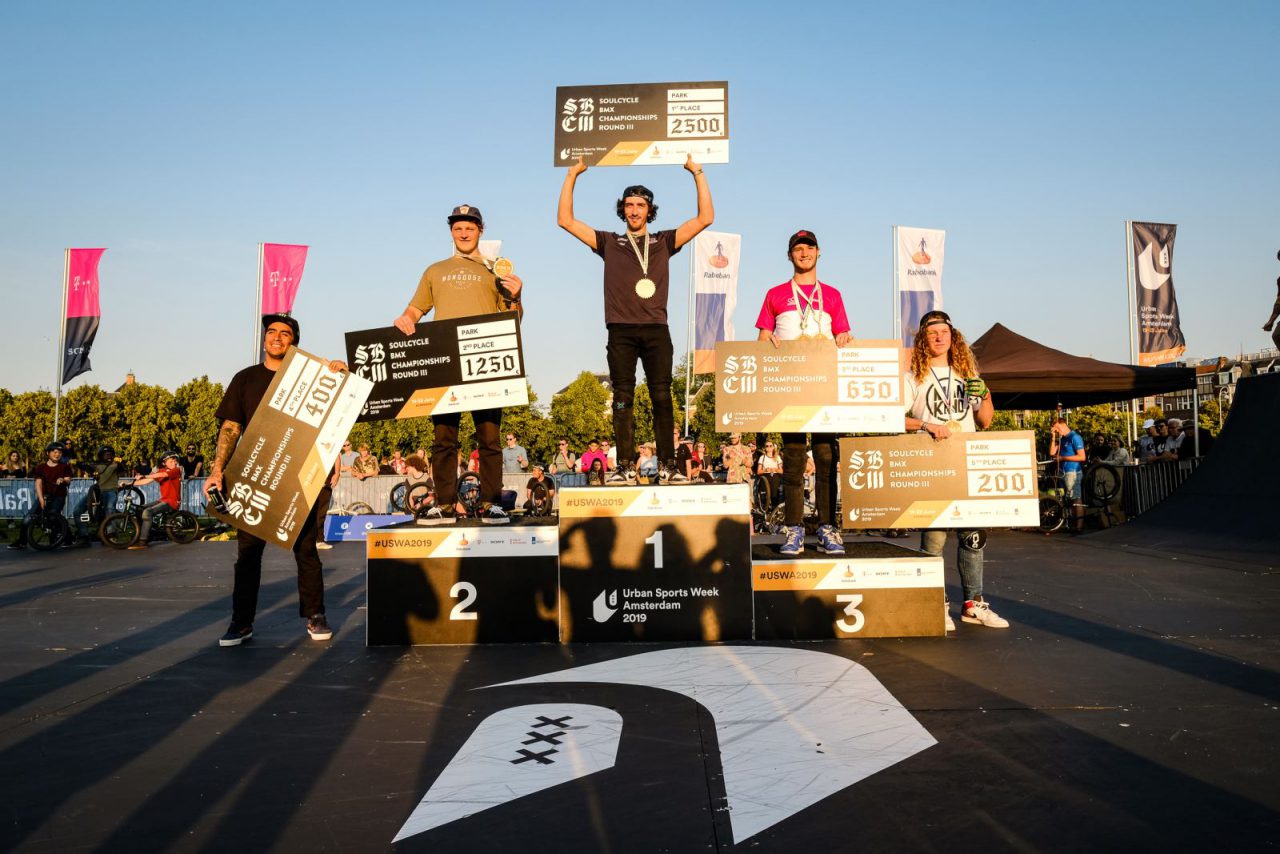 RESULTS SOULCYCLE BMX CHAMPIONSHIPS ROUND III – PARK PRO WOMEN
Name:                               Score:
1. Jana Muravoda             56,3
2. Valeri Steffe                   54,7
3. Shanice Silva Cruz        7,7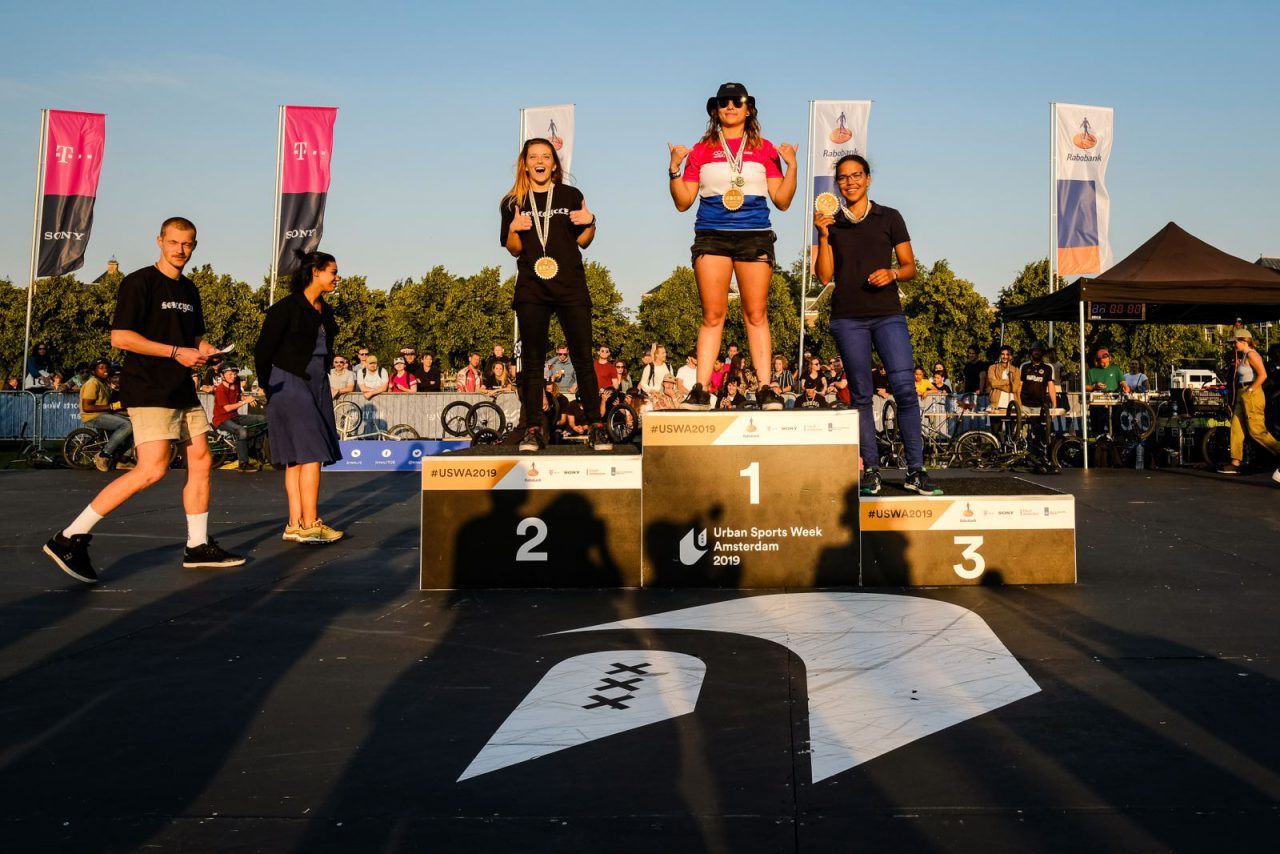 RESULTS BMX DUTCH CHAMPIONSHIPS MEN
Name:                              Score:
1. Levi Weidmann             87,6
2. Jari Roggeveen             85,0
3. Arjan Ellens                   82,3
4. Niels van Maren            82,7 (Result from qualifications)
5. Milan Tenbult                 44,2 (Result from qualifications)
6. Pim Scheers                  5 (Result from qualifications)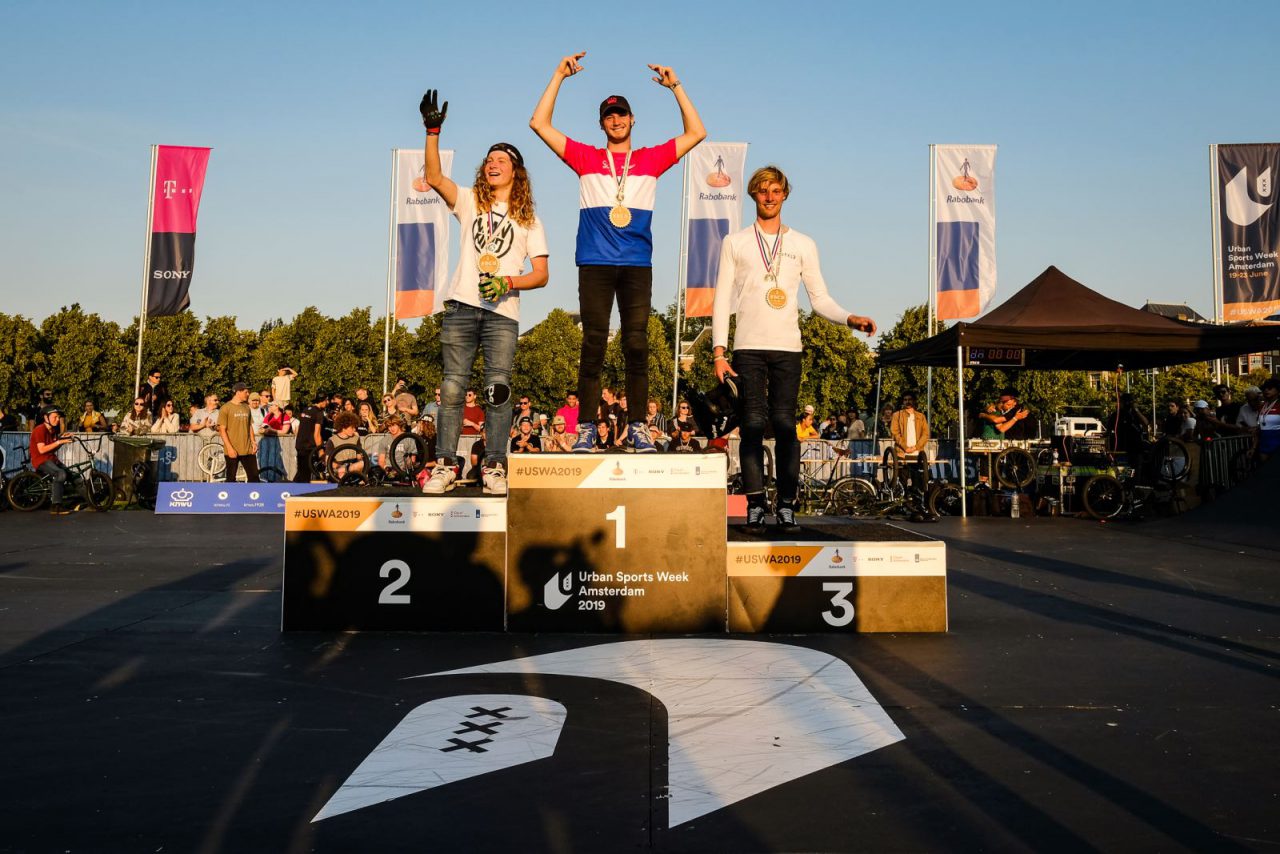 RESULTS BMX DUTCH CHAMPIONSHIPS WOMEN
Name:                               Score:
1. Jana Muravoda             56,3
2. Shanice Silva Cruz        7,7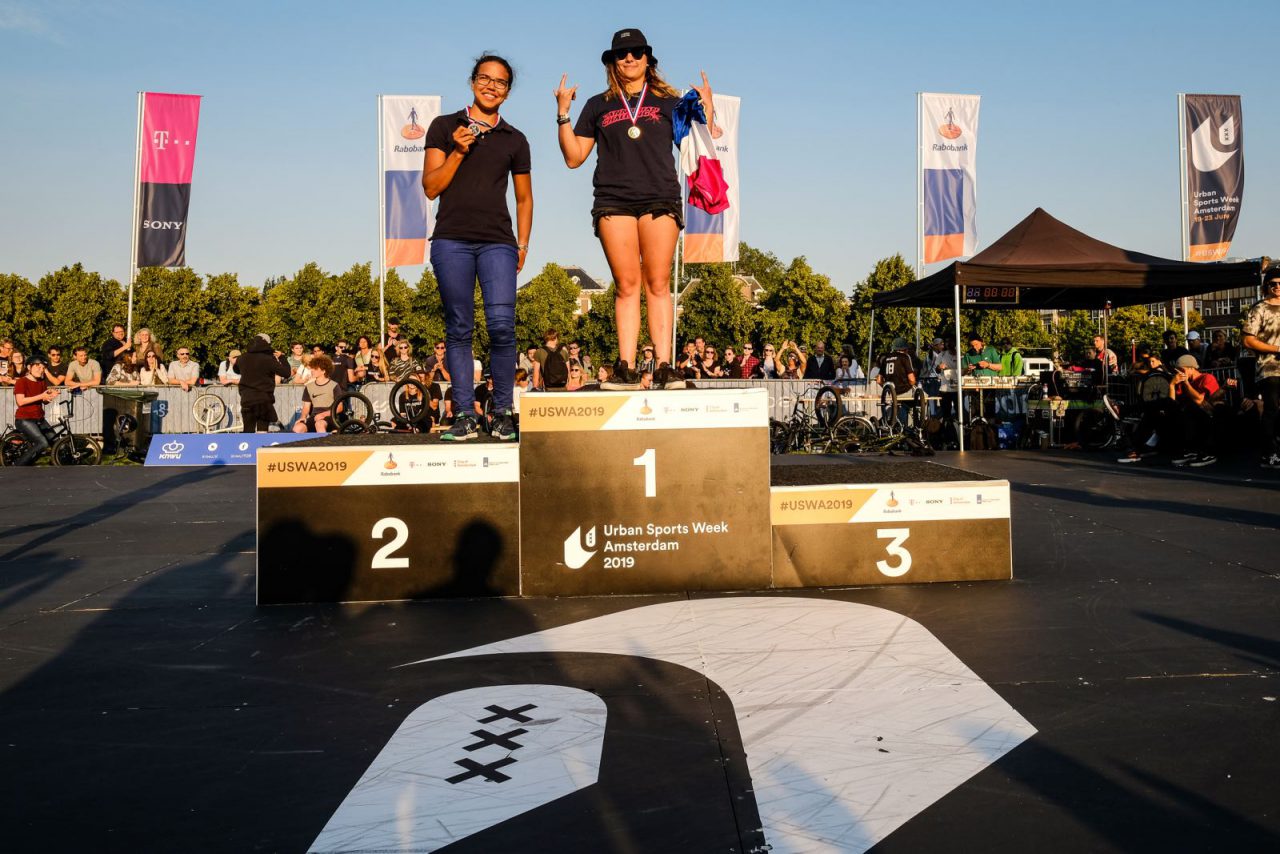 Sunday June 23
STREET PRO
As the heat built up over the last week, it was the street riders who had to show 1 minute of their best riding during the most extreme temperatures on the last day of the Soulcycle BMX Championships Round III. Fuelled by free water and a chill vibe among all riders from over the world, it was the riders who shined the brightest. The registrations showed to be a diverse range of riders, it being a mix of locals to the most influential street pro riders of the world. So too riding wise we have seen a great diversity, ranging from "Sketchy Kevin" hopping out over a 3,5 meter fence of the course to Alex Kennedy putting down an insanely technical and dialled run. When it came down to the final results, Leon Hoppe happened to go home with the cheque worth €2500 due to pulling down tricks as railride double bars and flairs.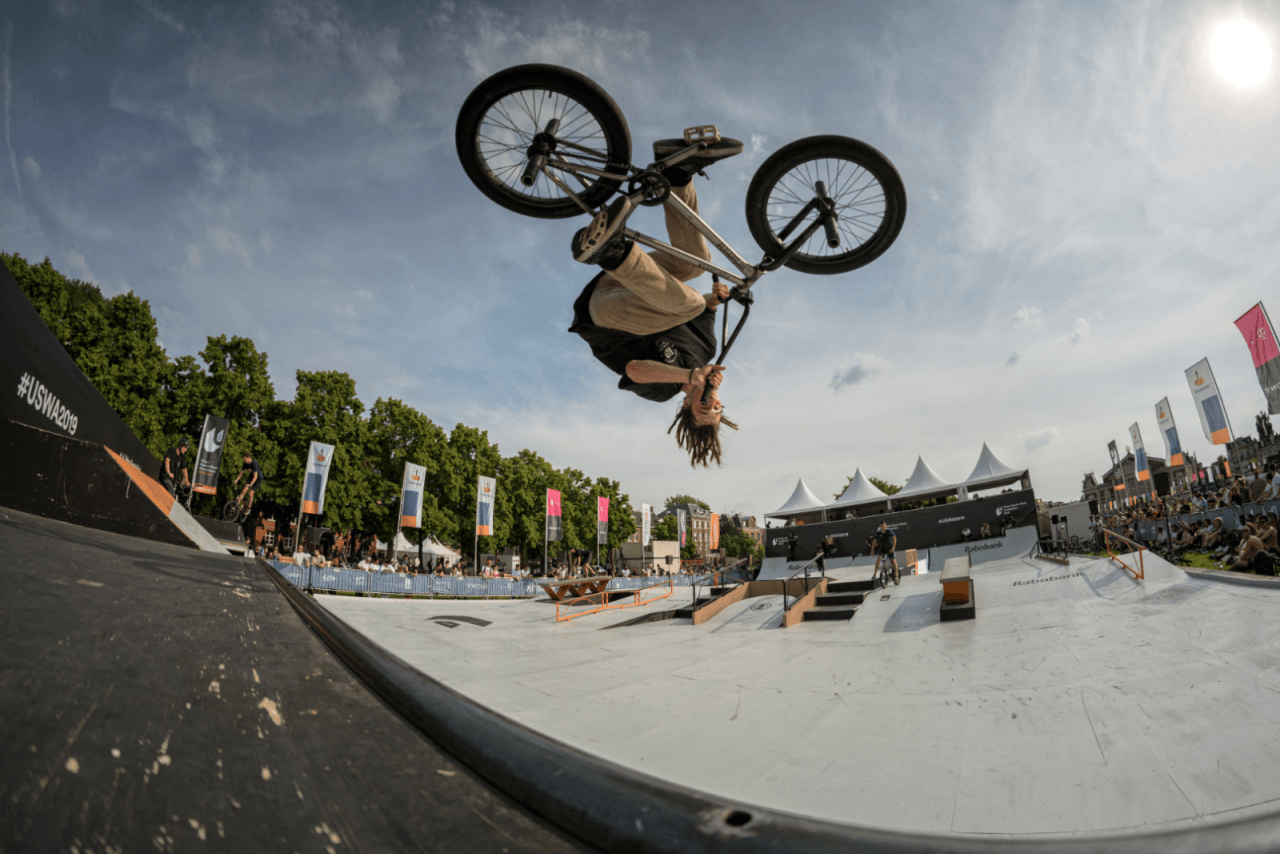 RESULTS SOULCYCLE BMX CHAMPIONSHIPS ROUND III – STREET PRO
Name:                               Score:
1. Leon Hoppe                  87,7
2. Reed Stark                    86,3
3. Alex Kennedy                86,0
4. Niels Mertens                84,7
5. Felipe Manerim             84,0
6. Jack Nieraeth                82,7
7. Gianno Vacca                81,7
8. Joeri Veul                      79,7
9. Anne Hofsink                 78,3
10. Tom Weikert                 76,3
11. Simon de Geyter          76,3
12. Joris Coulomb              56,7